Bigg Boss season 16 recently went through the Grand finale in February 2023. In this great season,
rapper MC Stan killed the game. The show ended with lots of new faces, controversies, and of course, a
lot of prize money. But since then, rumors of Bigg Boss season 17 have filled the air.
It's time for another spectacular and entertaining season of Bigg Boss. The show promises many new
things to showcase and dramas to binge upon. And is all set to illuminate the stage. The talented
contestants have been lined up, and auditions are set up for blaze. So, now let us look at the various
features, twists, and contestants who will knack the show.
Bigg Boss 17 release details
All in one trendz: Discover the national and international news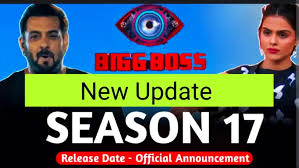 If you want to add more spice to your taste, Bigg Boss season 17 is all set to premiere in mid of 2023.
The show includes unlimited entertainment, twists, and larger-than-life reality shows drama. There is
more and more to get on than the previous season. The show will stream on Colors TV Channel. The
Bigg Boss season 17 winner will get a cash prize of around 50 lakh rupees, a trip, and a luxury car. The
winners here win the trophy and a golden ticket to their building career. This show gives more to a
winner aspirer. This is the strength of this reality show.
Bigg Boss has set a milestone in the world of Indian reality TV. Since its inception, audiences have been
captivated by quirky entertainment, gossip, and changing human dynamics. The show is inspired by the
international show Big Brother. Undoubtedly, Bigg Boss is an excellent hit in Indian television with an
exciting concept. The show till now has given talented personalities and a fantastic plot.
Auditions of Bigg Boss 17
There is no statement released from the show about the audition dates. But it is expected to start soon.
If you are willing to participate in the audition round, first of all, register on the official website of Voot.
Once you visit the website, search for audition and register yourself. During registration, shoot a video
for the audition directly on the website. The show also holds specific eligibility criteria:
The contestant must be at least 18 years old.
Only Indian citizens can apply.
Have some fan following
After registration, the applications will undergo the review process. If the selection team finds the
application impressive and appealing, you will head for the auditions.
Who will be the Host for the season?
Well, there is no official announcement about the hostname. The charismatic actor Salman Khan will
host season 17 again. Though there have been rumors about changing Bigg Boss 17 Host, nothing has
come up till now.
List of Bigg Boss 17 Contestants
The news of Bigg Boss season 17 is creating Buzz around all the digital platforms. However, there are
some changes in this season. As per the show details, the contestants will be actors, athletes, and
singers this time. In the white card entry, there are rumors of the entry of YouTube stars too!
The show has celebrities as its contestants. Hence, Bigg Boss 17 will top the list of Indian reality show
very soon. But here is a twist. Yes, there will be common people to change the Dynamics. A ratio of
50:50 is set between common people and celebrities. The final contestant list will be out soon once the
auditions are over.
Thus, fasten the seat belt and get ready for the next binge of Bigg Boss 17.
For more update:-All in one trendz: Discover the national and international news