WHAT IS R U OKAY DAY?
R U OK Day was integrated on 29 November 2009. The founder is Gavin Larkin. It is a non-profit organisation. It is an Australian suicide prevention organisation. The slogan is R U Ok? This day celebrated annually on second Thursday of September. The aim is to connect with people who have emotional insecurity, who are in depression. It's main aim is to prevent suicide and mental illness. The estimated amount of suicide in just 12 months is 65000.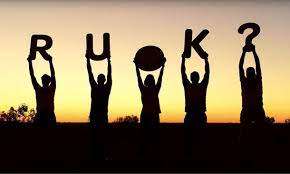 The 2007 national survey of mental health and wellbeing of adults estimated that 16-85 age bracket are going to experience mental illness in their life time. While 20% will experience mental disorder. Even barry larkin, gavin lakin's father was died by suicide. After his father death gavin experienced depression and he was concerned about his mental health. So he joined a course at landmark worldwide. So his main aim is to complete the course about suicide prevention to honour his father. He created a national day of contacting people who are having a difficult time.
The first day of R U ok is on 29 November 2009 , but after that it was decided to celebrate this is on second Thursday of September. This slogan was chosen by doing a lot of research, then they found that communication with people can change their mental state. The message we got from this day is that conversation can change a life.
More About R U OK:-
Larkin said that getting connected and staying connected is the best thing anyone can do for themselves and for those who may be at risk. There are many ambassadors and supporter to raise awareness such as Huger jackman, Simon baker, naomi watts, Roy asotasi, wendell sailor, deepak vinayak, Libby trickett. According to 2009 survey total 6,50,000 conversation took place.
In 2011 gavin larkin died with lymphoma, but his family continued the campaign. NSW minister for mental health Kevin humphries said that " extraordinary acts of service and commitment to suicide prevention. After the death of gavin larkin , don Ritchie was recognised for his efforts in saving lives of people.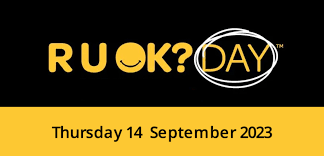 WHEN IS R U OK DAY 2023?
This is on Thursday 14 September.
R U OK? AT WORK:
At work place asking R U Ok? Can make a good impact. When you talk to people they feel confident , the good conversation can change people mindset. So it is important to have a good conversation with employers or other staff, so if they are having any mental illness, they can cured just by talking. If any people having depression or mental illness try to make him/ her happy.
Moreover If someone is asking you any question try to answer in a supportive way, don't try to judge anyone. We can help people by practical guides and posters.
R U OK? AT HOME:
Family is a great support that anyone can have. Sharing your thoughts with family members is great. If you are having any problem with anyone or you are depressed just share it with your parents, brother or sisters. In addition to these people are always trustworthy. You can trust your family easily. Just by talking with family, you feel good. They will guide you in the right direction. They will think about your mental health or mental peace.
Moreover A good conversation with your family can change your life for good things. You should have a good meaningful conversation with your family.
R U OK? AT SCHOOL:
Sharing your thought with your classmates or teacher is also a good option. In addition to nowadays most of school going children are in depression, they are depressed because of studies or relationship. Friends should support their peers and talked to them that how they feel. in addition to they should talk to them about their day, how the day is going everything. Just try to do a conversation. Moreover teacher should talk to their student about their mental health. They should have a good meaningful conversation. It is the national day celebrated in Australia.
CONCLUSION:
Therefore it is celebrated in Australia. It is celebrated on second Thursday of September. He founded this day after the death of his father by suicide. When is father died, he get into the depression then he thought about himself and started a course of suicide prevention. Although he did a lot of research on giving an name to a day, then he found a good slogan that is R U Okay day. Moreover on this, Australian have conversation with people about their mental health or depression.
The first R U ok was celebrated on 29 November 2009. This is inaugurated with the aim to get people out of depression and any mental health disorder. In addition to when people are in depression they try to do suicide. Suicide is very wrong. So, conversation with people who are in depression or having any mental disorder can save their lives, a good conversation can lead to live saving. Therefore R U Ok was inaugurated with aim to save life of people.