Inside Out 2 will be released in the UK theatres on June 14, 2024,9 years after the release of the original film in 2015. Pixar has released a new trailer for the upcoming sequel Inside Out 2.The long
awaited movie was announced by star Amy Poehler at Disney's D 23 expo in September 2022.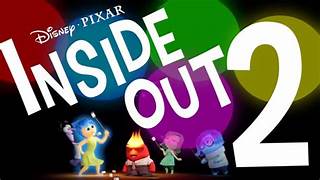 They suddenly wake up in midst of the night
They suddenly wake up in midst of the night to discover a demolition crew ransacking their building and installing a new, orange-tinted console.
Joy is the main protagonist of the Disney/Pixar film Inside Out.She has got yellowish orange bright skin that glows.She is one of the five emotions inside the mind of Riley Anderson.She always strives to remain joyful, hence her name, and is the leader of the emotions.Emily is Riley's elder sister. She is the head of E-girls clique and controls the dance captain of A-Troup.
Although Pixar told it will only focus on developing original films rather than sequels after the release of 2019's toy story 4,they changed track later and released Toy story spin-off lightyear in 2022 paving the way for the production of both Inside Out 2 and Toy story 5.

Cast and Crew
Kelsey Mann who has previously worked on various Pixar films like the Good Dinosaur,Monsters University, Lightyear and Onward would be directing Inside Out 2.Pete Docter who has directed Soul,up and the original film will oversee the sequel now as executive producer.The script will be penned by Meg LeFauve,who co-wrote the first Inside Out with Josh Cooley and Docter.Inside Out 2 is set to explore a new landscape:the teenage mind.The original film ended with Riley's emotions discovering puberty, so the sequel will pick up where it let off by focusing on Riley's adolescence.
Story Plot:- Inside Out 2
The movie showcases a teenager's emotions how it affects them physically and deals with what really goes inside our heads.It changes our perspective on mental health,wellness and emotional intelligence.
Poehler will voice Joy in Inside Out 2 alongside Phyllis Smith and Lewis Black reprising their roles as Sadness and anger respectively.Two original cast members,Mindy Kaling and Bill Hader have been recast.The Equalizer star Liza Lapira has replaced Mindy Kaling as the voice of Disgust while Arrested Development 's Tony Hale will provide the voice of Fear instead of Bill Hader.The newly introduced character is anxiety.This role is played by Stranger Things star Maya Hawke.