By 2028, the market for drug testing will be worth USD 11.7 billion and is projected to expand at a compound annual growth rate (CAGR) of 4.9%. Government agencies' strict regulations requiring alcohol and drug testing for safety reasons as well as rising efforts to track and combat substance usage are expected to boost market growth. Additionally, the prevalence of substance misuse is rising globally, which has increased the necessity for screening and fueled the demand for drug testing. In addition, the COVID-19 pandemic's effects on business closures, the economy, and job losses have had a negative impact on people's mental health and increased rates of substance misuse.
A large demand for drug testing resulted from the CDC's estimations that 13.3% of Americans started using drugs or alcohol more frequently to deal with COVID-19-related anxiety or feelings. The need for roadside and workplace testing has, however, slowed down in 2020 as a result of a nationwide lockdown caused by COVID-19 in major economies, which has somewhat negatively impacted market growth.
The need for novel goods has increased as a result of strict restrictions being enforced by various government organisations that require drug testing for safety reasons. For instance, the Michigan State Police (MSP) expanded the Oral Fluid Roadside Analysis Pilot Programme to all counties in October 2019 following the completion of a one-year roadside drug testing pilot programme in five counties from 2017 to 2018. Also in August 2018, to identify drug-impaired drivers, the Attorney General and Minister of Justice of Canada authorised the use of roadside oral fluid screening devices.
The market is being driven by numerous government programmes to monitor and combat substance usage. The Substance Use and Addictions Programme (SUAP) of Health Canada provides financing and contributions for initiatives that address the problem of substance addiction in Canada. This programme supports programmes in Canada that aim to prevent substance use, reduce harm, and provide treatment. Additionally, the city of New York started a number of efforts in April 2016 to teach medical professionals who deal with substance misuse and increase testing for synthetic opioids. Five drug control functional areas in the United States were sought in the National Drug Control Budget for FY 2020: prevention, operation, treatment, law enforcement, and interdiction.
The right to privacy and various nations' bans on drug and alcohol testing are probably the two biggest obstacles to industry expansion. Unlike the United States, many European nations, including Finland and Belgium, have strict privacy laws that cannot be disregarded when conducting drug misuse screenings. Performing a drug test before hiring is prohibited in the Netherlands. For inappropriate testing, many European nations impose criminal fines as a punishment. A privacy invasion has occurred here. Therefore, testing at work may be restricted due to such strict privacy rights, which would slow market expansion.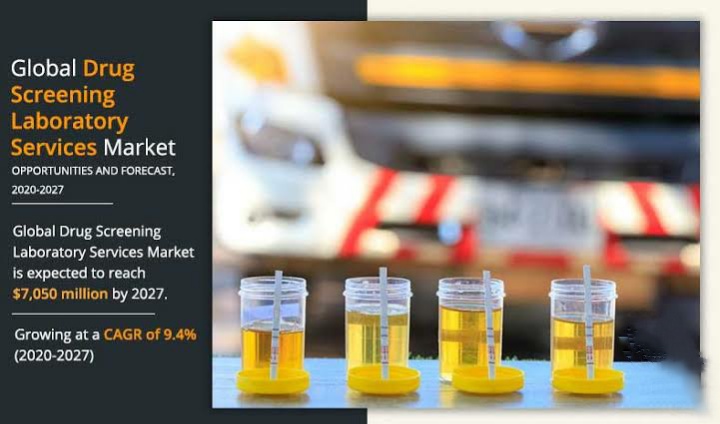 Market trends for drug testing: drivers
The key drivers driving the market growth are the increasing consumption of alcohol by young people and the elderly, the overuse of prescribed medications, and the rising use of opioids and illegal drugs. The demand for drug testing is also anticipated to increase due to the increased instances of illegal drug use and the rising crime rates linked to drug misuse.
There is more competition among manufacturers, and those developing innovative products across a wider range of categories are capturing a larger share of the market. Additionally, during the projected period, technological advancements are anticipated to propel the worldwide drug screening market ahead.
Product Type Information
With a revenue share of 34.3%, the consumables category led the market in 2020. The market expansion has been boosted by the rising release of cutting-edge consumables that offer enhanced solutions to make testing simple, accurate, and quick. For instance, at the 2019 American Association for Clinical Chemistry (AACC) Annual Scientific Meeting in August 2019, MedTest Dx, Inc. unveiled Clinitox Calibrators and Controls. To avoid measuring processes, managing controls and certifications, the requirement to buy and set up materials, and multiple handling, these calibrators and controls provide confirmation testing for laboratories.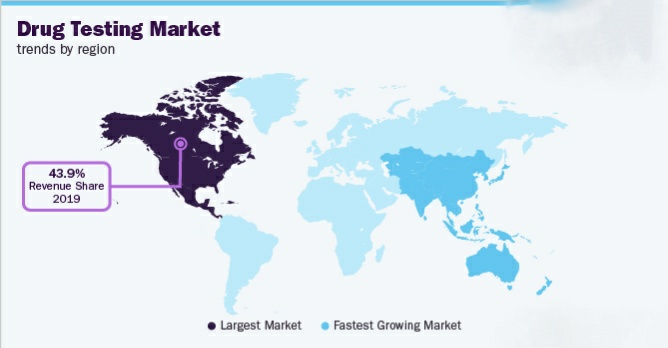 In terms of revenue share in 2020, the services segment came in second. The segmental expansion has been fueled by a rise in strategic activities being carried out by various companies, such as acquisitions, collaborations, and partnerships to serve public safety and governmental organisations. Averhealth purchased the drug testing services of the Treatment Assessment Screening Centre (TASC) in August 2020. For the clients of TASC, Averhealth is anticipated to offer improved substance use monitoring services.