"Opposition:-"Mamata Banerjee's meeting with Lalu Prasad sets the stage for a united front of opposition leaders against the ruling BJP in India."
"Opposition:-The Indian political landscape is witnessing an intriguing development as opposition leaders from various parties come together to discuss the formation of a united front against the ruling Bharatiya Janata Party (BJP). West Bengal Chief Minister Mamata Banerjee's recent meeting with Rashtriya Janata Dal (RJD) leader Lalu Prasad and his wife, former Bihar Chief Minister Rabri Devi, in Patna has sparked excitement and speculation about the potential for a powerful opposition alliance. This blog delves into the significance of this meeting and its implications for the future of Indian politics.
"Opposition:-Mamata Banerjee's Meeting with Lalu Prasad
In a display of solidarity, Mamata Banerjee, accompanied by her nephew Abhishek Banerjee, met with senior leader Lalu Prasad and Rabri Devi at their residence in Patna. Mamata expressed her happiness at meeting Lalu Prasad, recognizing his stature and strength in taking on the BJP. She emphasized their collective resolve to fight together, likening it to a united family. The meeting holds immense importance as it sets the stage for opposition leaders to come together and strategize against the BJP's dominance.
"Opposition:-The Significance of a United Opposition
The meeting between Mamata Banerjee and Lalu Prasad is part of a larger effort to forge a united front against the BJP. The opposition leaders aim to pool their resources, experiences, and support bases to mount a strong challenge in the upcoming parliamentary elections. The BJP's dominance in recent years has prompted a growing concern among opposition parties, necessitating a cohesive and coordinated response.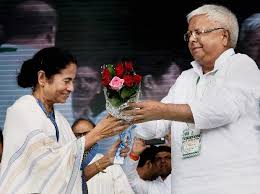 https://www.hindustantimes.com/cities/patna-news/mamata-banerjee-unites-opposition-parties-to-fight-bjp-in-lok-sabha-elections-2019-with-formula-of-one-against-one-101687454034323.html
"Opposition:-Mamata Banerjee's Role in the Opposition
Mamata Banerjee's presence at the meeting carries significance beyond her own state of West Bengal. As the Chief Minister of West Bengal and a prominent opposition figure, she has emerged as a potential contender for the Prime Ministerial position. Her extensive political experience, including multiple terms as a Member of Parliament and three consecutive terms as Chief Minister, adds weight to her candidacy. However, it is important to note that Mamata Banerjee's party, Trinamool, has not yet disclosed any specific plans regarding projecting her as a Prime Ministerial candidate.
"Opposition:-Challenges and Complexities
While the idea of a united front sounds promising, it also brings forth its own set of challenges and complexities. Mamata Banerjee's meeting with Lalu Prasad, despite their previous rivalry in West Bengal, showcases their willingness to set aside differences in the interest of countering the BJP's dominance. Additionally, the involvement of the Left parties and the Congress, who have fought against Mamata Banerjee's party in West Bengal, further complicates the dynamics. The success of this united front will depend on the ability of the opposition leaders to navigate these complexities and forge a common agenda.
The meeting between Mamata Banerjee and Lalu Prasad in Patna serves as a critical step towards the formation of a united front among opposition parties. As they come together to discuss strategies and counter the BJP's influence, the political landscape in India is poised for a significant shift. The unity and collaboration among these leaders hold the potential to reshape the future of Indian politics and provide a formidable challenge to the ruling party. The upcoming opposition meeting will serve as a crucial moment to gauge the strength and determination of this united front.
For more information-All in one trendz: Discover the national and international news