Writers Guild of America and Studios reach tentative agreement. Strike lasted almost five months, affecting TV and film production. Union leaders and studios agree to end nearly five-month-long screenwriters strike. No agreement yet for striking actors. Writers Guild of America (WGA) Members Strike for Fair Pay" WGA members in New York and Hollywood walk out, seeking better pay and business model changes in streaming era.
Writers Guild Announces Agreement-
The Writers Guild of America and Alliance of Motion Picture and Television Producers jointly announce the tentative deal.
This follows extensive negotiations involving union members and studio executives. The three-year contract agreement needs approval from guild's board and members. Before strike officially concludes. Picketing is immediately suspended. But strike is not officially over.
Deal Terms Await Disclosure-
Specific details of agreement are yet to be revealed. In the previous 2008 strike, more than 90% of members approved tentative deal. Strike was days away from becoming longest in guild's history. It's been longest Hollywood strike in over 70 years. Nightly network shows like "The Tonight Show" and "Jimmy Kimmel Live!" could return within days. Crew members affected by strike remain unemployed.
Actors' Strike Remains Unresolved-
Talks has not yet resumed between studios and Screen Actors Guild-American Federation of Television and Radio Artists (SAG-AFTRA).
Crew members impacted by strike continue to face uncertainty. SAG-AFTRA congratulates Writers Guild of America on tentative agreement. A call for fair terms and negotiations for actors continues.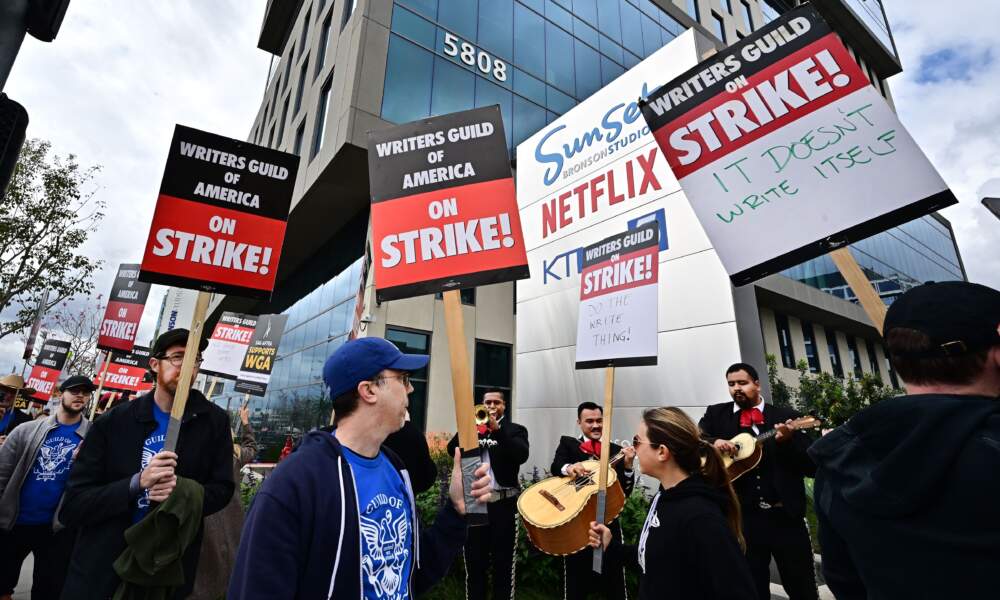 Positive Reactions and Hope for Writers-
Prominent chief executives from major entertainment companies actively participated in negotiations. Government intervention, seen in previous strikes, is not required this time. Los Angeles Mayor- Karen Bass and California Government- Gavin Newsom express optimism. Concerns over workers' stress and anxiety led to strike, both sides have come together.
Impact on Entertainment Industry-
Strike began on May 2, with over 11,500 Writers Guild of America members participating. Key issues included pay, size of writing staffs, use of artificial intelligence in script creation. Strike disrupted late-night talk shows, "Saturday Night Live," and numerous scripted TV shows and films. Productions like "Stranger Things," "The Last of Us," and "Deadpool 3" were affected.
Writers aimed to halt talk shows, were returning to air despite strike. Pressure led to these shows, including "The Drew Barrymore Show" and "Real Time With Bill Maher," reversing course. Strike spotlighted clash between creative labor and industry transformations, driven by technology and streaming. Emergence of AI in entertainment added to challenges faced by workers.
Over two months into strike, 65,000 striking film and television actors joined picket lines. This marked first joint strike since 1960. Studios choosing to address writers' concerns first. Strike began in May 2023. A tentative agreement was reached in September 2023. Approval from guild board and members is pending.
Conclusion-
The Hollywood screenwriters strike is on the verge of resolution with a tentative agreement reached after nearly five months of protests. The Writers Guild of America and studios jointly announced the deal. But its official conclusion depends on approval from the guild's board and members. While picketing has been temporarily suspended, late-night network shows may return soon. However, the actors' strike remains unresolved. Leaving crew members without work. Details of the agreement are yet to be disclosed, but this marks significant moment in Hollywood labor history. Highlighting the industry's evolving landscape and the challenges faced by its workforce.