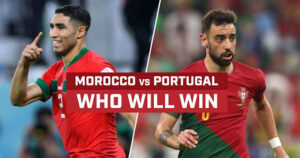 The third quarter-final of FIFA World Cup 2022 played between Morocco vs Portugal catches the attraction to every football fan out there the reason a man from Portugal Cristiano Ronaldo who is waiting for winning his first World Cup since Portugal has qualified for every World Cup since 2002, advancing as far as fourth place, but that is not their highest finish ever. In 1966, they placed third, but they have never won the World Cup.
On the other hand, Morocco in the previous match defeated Spain the world champions of 2010. Morocco single-handedly Beat Spain in this last match penalty shoot out by 3-0 score.
After this domination against Spain Morocco is completely ready to take over Portugal but for this, they have to stop a man which is the terminator of team Portugal none other than Cristiano Ronaldo.
Even though Cristiano Ronaldo was benched in the last match against Switzerland still his team managed to dominate Switzerland with a score margin of 6-1. Also in the same match, after the substitution, Ronaldo scored a goal in the 83rd minute of the match but unfortunately, it was an offside goal.
Every Portugal fan every Cristiano Ronaldo fan is waiting for his team to do the same dominating performance as they are been doing so far in this FIFA World Cup 2020 Qatar.
Probably this is going to be the last FIFA World Cup for Cristiano Ronaldo cause he is 37year old and thus he wants that his team should win the World Cup for him and his nation.
Morocco is a nation setting up new records for its country after being the First African team to reach 7 points at the group stage. Also, the First Arab nation to advance to the quarter-finals by defeating Spain on a penalty shoot-out 3-0.2022 Walid Regragui of Morocco, the first African and Arab manager to reach the quarter-finals.
We will catch this live action between these two teams tomorrow 8:30 pm 10 December from Qatar