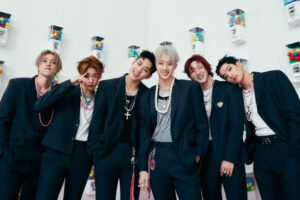 The US performance dates and locations for the K-pop boyband P1Harmony's 2023 "P1ustage H: P1ONEER" tour have been released.
P1Harmony are laying down in a hotel room in New York City on a cloudy day, thinking about what drove them halfway across the world. Their first anniversary as a group is coming up in a few weeks, and despite the gloomy sky, spirits are high. This is the end of an arduous journey for the six young adults (in their teens and twenties) Keeho, Theo, Jiung, Intak, Soul, and Jongseob who made their debut during the epidemic.
Soft-spoken Soul, whose dreams of fame stretch back ten years, when street artists performing the robot on TV inspired a lifetime love of dance, is being hyped up by the Canadian-born leader Keeho. Before translating into Korean, Keeho replies sharply, "If Soul wishes to reveal us…" The key to engaging the more reticent member is "5-6-7-8," and he is aware of this. Soul mimics the precise moves of the dance while grinning widely. Loud applause breaks out around the room.
P1Harmony's 2023 release of "P1ustage H: P1ONEER" received its formal announcement on December 5 from FNC Entertainment. The boyband's tour, which is scheduled to run from January through February, will get underway in Seoul, South Korea on January 14 and 15, then go on to 12 US cities, beginning with Los Angeles on January 20.
On December 6, the organisation provided yet another update that included venues and ticket information for P1Harmony's forthcoming US shows. While tickets for the Nashville and New York concerts will be made available on AXS, those for the Los Angeles and Chicago performances will be made available on TicketWeb. All other US dates' tickets will be offered through TicketMaster.