In the 10th match of IPL-16, Lucknow team beat Sunrisers Hyderabad by 7 wickets in a low scoring match at their home ground.
This is Lucknow's second win in 3 matches. While Hyderabad's team has suffered another defeat in a row. All-rounder Krunal Pandya gave 3 wickets one after the other to the Hyderabad team, which came out to bat first.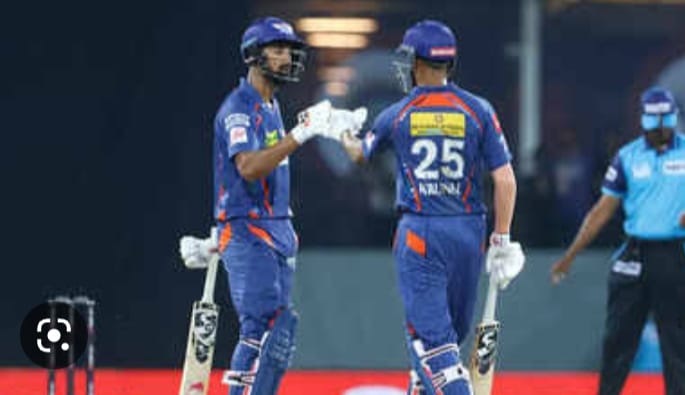 This includes the wicket of Hyderabad captain Markeram. Krunal dismissed Mercer for 0 with the first ball.
Hyderabad players were facing difficulties in playing against the spinners right from the start. The team scored 43 runs for 1 wicket in Powerpal. The Lucknow team scored 121 runs for 8 wickets in 20 overs.
Rahul Tripathi scored 35 runs in 41 balls and Anmol Preet Singh played a struggling innings of 31 runs in 26 balls. Abdul Samad scored 21 not out in 10 balls. For Lucknow, Krunal Pandya took 3 wickets and Amit Mishra took 2 wickets.
Lucknow scored 45 runs after losing the wickets of Meyers and Hooda in the powerplay. After which Lokesh Rahul (35) and Krunal Pandya (34) had a partnership of 55 runs.
Lucknow, who came close to victory in a low-scoring match, lost the wickets of Krunal Pandya, Lokesh Rahul and Romerio Shepherd in a span of 14 runs. Aadil Rashid took 2 wickets, Bhuvneshwar Farooqui and Umrah took 1 each. Krunal Pandya performed as an all-rounder in the match.
Apart from this, 40-year-old Amit Mishra took a great catch in the match. Amit Mishra is one of the most experienced and highest wicket-takers in the IPL.
After the result of this match, Lucknow SuperGiants reached first place in the points table. While the team of Gujarat Titans has reached the second rank. For the second year in a row, the new teams are doing well in the IPL. Last year, Gujarat Titans team became the champion. While Lucknow also reached the playoffs.
Krunal Pandya
In this match, Krunal Pandya's performance was all-rounder wpo bats left handed and bowls slow left arm orthodox. Krunal hit 4 fours and 1 six with 34 runs. Krunal Pandya is the brother of Hardik Pandya who is a resident of Gujarat.