David McCallum, the Scottish actor renowned for his iconic roles in the 1960s espionage series "The Man From U.N.C.L.E." and, more recently, his amazing portrayal of a forensic pathologist on the long-running CBS crime drama "NCIS," has passed away at the age of 90. Mr. McCallum's death on September 25th came as a huge shock to the hollywood world as well as to his fans, he breathed his last at New York Presbyterian Hospital, surrounded by his family. He has left behind his wife of 56 years, Katherine McCallum, four children, and eight grandchildren. At the time of reporting, the precise cause of his demise has not been yet disclosed by the authorities.
David McCallum's enduring presence on "NCIS," one of the most enduring television series in the United States, was remarkable. He joined the cast when the show premiered in 2003, assuming the role of Donald "Ducky" Mallard, the Chief Medical Examiner of the Naval Criminal Investigative Service. His portrayal resonated with audiences, and he remained a beloved fixture on the show's screen until its 20th season in the present year. His beloved persona both on and off screen has remained a public favourite for more than a decade now.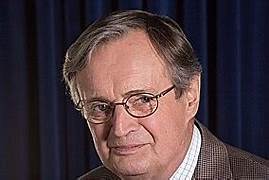 He was born in Glasgow
He was born in Glasgow and enjoyed a career that spanned an impressive seven decades. His journey into the world of entertainment began in the 1950s during his time as a student at London's Royal Academy of Dramatic Art (RADA), an illustrious
institution that also counted future star Joan Collins among its attendees. Notably, McCallum's upbringing was steeped in music, with both of his parents being accomplished classical musicians. Initially drawn to a musical path, the NCIS star eventually found his calling as an actor, marking a significant shift in his career trajectory.
His early foray into acting commenced with supporting roles in several British films, with a notable appearance in the 1958 production "A Night to Remember," where he portrayed Harold Bride, the radio operator aboard the ill-fated Titanic. It was in this capacity that he first garnered the attention of American audiences. However, it was his pivotal role in the 1963 World War II classic, "The Great Escape," that truly propelled him to international fame.
In the film, he portrayed one of the prisoners of war involved in a daring and meticulously planned mass breakout from a German prison camp. This story became a huge hit as people began to like David's terrific onscreen presence and his dedication to the characters that he played in any movie.In various interviews, David McCallum, the accomplished Scottish actor known for his remarkable career, revealed that one of his most cherished roles, besides Julius
Caesar, was that of Dr. Donald "Ducky
Caesar, was that of Dr. Donald "Ducky" Mallard in the popular television series "NCIS." One of the key reasons behind his affection for this character was the immense knowledge he gained about the field of forensics during his portrayal. His commitment to authenticity led him to delve deeply into the subject.
McCallum's dedication to his role as Dr. Mallard extended beyond the script. He took proactive steps to enhance his understanding of forensics by studying alongside pathologists in Los Angeles. Additionally, he had the unique opportunity to observe autopsies firsthand, gaining invaluable insights into the intricacies of forensic medicine. His dedication and newfound expertise even caught the attention of the show's writers, who frequently sought his technical advice to ensure the accuracy of the series.
David McCallum's willingness to immerse himself in the world of forensics to portray Dr. Mallard authentically showcased his commitment to his craft and his desire to deliver a compelling and accurate portrayal of the character. This dedication left an indelible mark on both his performance and the show itself, contributing to the success and authenticity of "NCIS."
In the wake of David McCallum passing
In the wake of David McCallum's passing, his son Peter McCallum, on behalf of the family, shared heartfelt sentiments about the beloved actor's character and his profound impact on their lives. Remembered as a loving and devoted father, David McCallum was hailed as "the kindest, coolest, most patient, and loving father" by Peter McCallum.
One of the hallmark qualities that defined David McCallum was his unwavering prioritization of family over self. He cherished every opportunity to connect with his grandchildren, fostering a unique and special bond with each of them. Among these cherished connections was his relationship with his youngest grandson, Whit, who is just 9 years old. The two could often be found engrossed in deep philosophical conversations in the corner of a room during family gatherings, demonstrating the actor's genuine and nurturing nature.
David McCallum's legacy extends
David McCallum's legacy extends far beyond his acting career. He was a true renaissance man, exhibiting a profound fascination with both science and culture. His insatiable curiosity led him to transform these passions into profound knowledge. For instance, he possessed the remarkable ability to conduct a symphony orchestra and, if circumstances required, could even perform an autopsy. These skills were honed through decades-long studies undertaken in preparation for his iconic role as Dr. Donald Mallard on the hit series "NCIS."
Peter McCallum further shared a poignant moment:- David McCallum
Peter McCallum further shared a poignant moment from his mother's perspective. Upon returning home from the hospital following her husband's passing, she expressed her emotions candidly, revealing a desire they had shared. She longed for the opportunity to grow old together, even at the respective ages of 79 and 90. This heartfelt sentiment underscored the vibrancy of their beautiful relationship and the fullness of their daily lives. It also highlighted the remarkable truth that David McCallum's spirit remained ageless, even at 90 years old.
David McCallum's legacy as a loving family man, a multifaceted talent, and a kind-hearted individual will continue to resonate with those who knew and loved him, leaving an enduring impact that transcends the screen. David McCallum's passing leaves a void in the world of entertainment, but his enduring legacy will continue to resonate with generations of fans who have beencaptivated by his talent and contributions to the industry.