Paytm, a global leader in fintech, saw its consolidated net loss shrunk dramatically in the final quarter of FY23 from a deficit of 761.4 crore to 168.4 crore. The growth of loans disbursed, higher merchant subscription revenues, higher GMV, and full years' UPI incentives recorded during the quarter all contributed to the performance. In the third quarter of 2022, Paytm reported a loss of Rs. 392 crore.
Paytm's top-line revenue increased by 51.5% from Q4FY22's level of 1,540.9 crore to $2,334.5 crore in Q4FY23, and by 13.2% from Q4FY22's level of 2,062.2 crore. Paytm achieved EBITDA before ESOP valued at (176 crore) and further announced better operating leverage due to continued improvement in contribution profit.
As of March 2023, 68 lakh merchants were paying subscription fees for these devices, more than doubling from the 29 lakh as of March 2022. Subscription services for payment devices, such as Soundbox and POS machines, have also seen an increase in acceptance. For Q4 FY 2023, Gross Merchandise Value (GMV) increased by 40% year over year to $3.62 lakh crore.
Additionally, according to Paytm's financial statement, the value of merchant loans increased by 309% YoY to 2,313 crore in Q4FY23, while the number of merchant loans given increased by 258% YoY for the most recent quarter. This quarter, businesses who used a fintech platform-provided payment device received more than 85% of the value disbursed.
According to Paytm, personal loans presently have an average ticket size of over 130,000 and an average term of 15 months.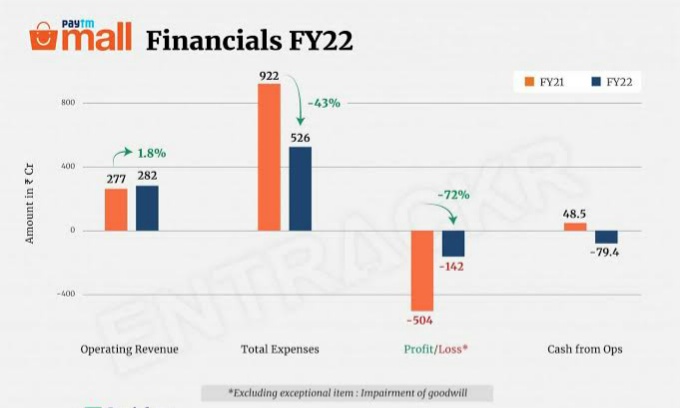 The company's revenue increase for the entire fiscal year FY23 was 61% YoY to Rs. 7,990 crore, driven by the monetization of payments and the expansion of our loan distribution business.
Due to increased payments profitability and expansion in the high margin loan distribution industry, the company's contribution margin increased from 30% in FY 2022 to 49% in FY 2023.
From 2,396.4 crore in FY22 to 1,776.5 crore in FY23, net loss decreased. The company anticipates long-term revenue growth and profitability across the loan and payment sectors as it enters FY24.
The rise of UPI and other mobile payment systems presents a multitude of untapped prospects, according to Paytm's statement. We are ready to take advantage of these chances by offering our consumers cutting-edge items. Paytm has enrolled 55 lakh new consumers since the UPI Lite platform was introduced in February 2023.