Malli Pelli, produced by Naresh under the banner of Vijaya Krishna Movies, is going to be streamed on the OTT platforms soon.
Naresh and Pavitra's 'Malli Pelli' will stream on OTT this
Naresh and Pavitra Lokesh who became the boldest couple in Tollywood in recent times made a film on their relationship as we all know. The film 'Malli Pelli' is written and directed by MS Raju. Naresh himself produced the film under the banner of Vijaya Krishna Movies.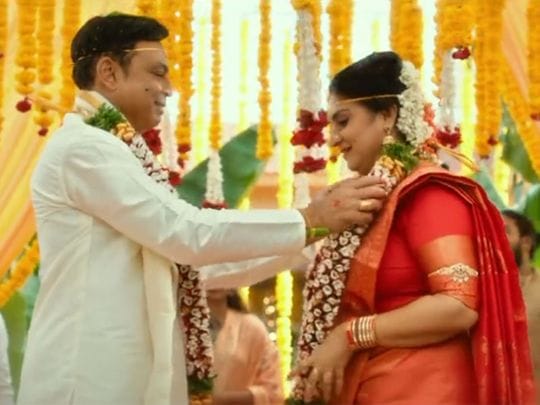 Malli Pelli is a decent romantic drama based on real-life events. The film shows us the love story of two middle-aged celebrities. Apart from the fact that it focuses only on the perspective of Naresh from his real-life incident which was rubbed again and again on social media, Malli Pelli can be watched once for sure. And it is purely an OTT stuff in the leisure time of the audience.
Telugu actor Naresh Vijaya Krishna and actress Pavitra Lokesh have been making headlines ever since their wedding video went viral online. The couple tied the knot in March. He is now busy promoting his latest film Malli Pelli directed by MS Raju.
Reportedly, Naresh Vijaya Krishna and his wife Pavitra Lokesh first met each other on the sets of Malli Pelli. He took an instant liking to her and thought she was the perfect match and soon raised the question of marriage before him. However, Pavitra Lokesh did not respond. But, finally on December 31, 2022, the actress reciprocated her love.
According to reports, Pavitra Lokesh had met King Vijaya Krishna's mother Vijaya Nirmala before her death when her health was deteriorating. He also claimed to have met Mahesh Babu and his wife Namrata and said that "everyone in the family welcomed me as one of their own".
Naresh Vijaya Krishna is the son of famous actress Vijaya Nirmala and her first husband KS Murthy. Naresh first married Srinu and had a son named Naveen Vijayakrishna with her. After his divorce from her, he married Rekha Supriya, who is the granddaughter of poet and lyricist Devulapalli Krishna Sastry. In his 50s, he married again and tied the knot with Ramya Raghupathi. Finally in 2023, he married Kannada actress Pavitra Lokesh.
On the work front, Naresh has several films in the pipeline including Anni Manchi Sakunamule, Telisinavallu and Samajavaragamana. On the other hand, Pavitra Lokesh will next be sharing the screen with Nithiin.
The lead pair of the MS Raju film, "Malli Pelli," has been asked if the movie is based on Naresh and Pavitra Lokesh's love story. Though neither Naresh nor Pavitra give a straight answer, Naresh claims that the film provides an honest take on love. While some may view it as controversial, it is a pure form of entertainment with no gimmicks, according to Naresh. Additionally, Pavitra reflects on a tough phase in her life when she had suicidal thoughts, and Naresh stood by her.
Is Malli Pelli based on Naresh and Pavitra Lokesh's actual love story? Everyone has been posing such query to the MS Raju movie's major actors. The pair is reluctant to provide frank responses to the query. "We want the viewers to come to their own judgements. I've worked in the film business for 50 years, and I'm happy that traditional heroes and plots are no longer the standard," adds Naresh.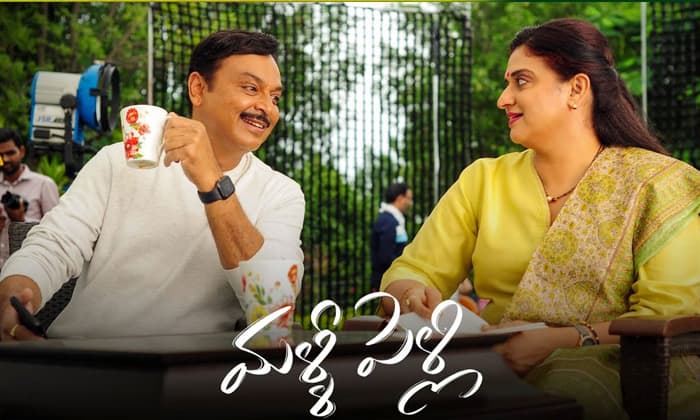 The co-star of Naresh, Pavitra Lokesh, joins in and says, "This is one of my best roles ever. When two people fall in love, women still experience discrimination, even in today's changing culture. Women's agency is also explored in the movie.
But Naresh makes it crystal clear that they owe no one an explanation. "Ultimately, we all have to fight our own battles, and we don't owe society any explanations."
The film presents an honest perspective on love, which is the only thing Naresh is willing to acknowledge. "Malli Pelli approaches relationships in a modern way. The chemistry I have on film with Pavitra has been fantastic. The movie may be contentious to some and daring to others, but everyone will be moved by the end. There are no tricks involved; this is just pure enjoyment," he says.
Naresh revived Vijaya Krishna Movies to make some bold and content-rich movies. Malli Pelli directed by MS Raju was a first attempt and the movie was released in theatres on May 26th. Today, the makers announced the streaming partners and time for its OTT streaming.
Malli Pelli will stream on Amazon Prime and Aha on June 23rd. However, the Kannada version of the movie Matthe Madhuve will premiere only on Amazon Prime. Many felt that Malli Pelli is an ideal OTT content and we need to wait another two days to watch it on OTT space
Malli Pelli is now going to be streamed on the OTT platforms soon. The film will air on Amazon Prime Video and Aha from June 23 (Friday).
Click for more updates clickhere
https://timesofindia.indiatimes.com/entertainment/telugu/movies/news/nareshs-ex-wife-ramya-raghupathi-seeks-to-halt-digital-release-of-malli-pelli/articleshow/101221373.cms?from=mdr