Trevor Noah gave a "special thanks to Black ladies" as he left "The Daily Show." During Thursday's broadcast, the 38-year-old comedian thanked Black women who, according to him, have influenced his thinking. It was his final instalment as the long-running Comedy Central show's host after seven years of service.

I've frequently been given credit for these big ideas, he remarked. Who do you believe instructs me, who do you believe has nurtured and moulded me? He continued, stating, "I constantly tell people, if you actually want to understand about America, talk to Black women. They have unique insight into American culture."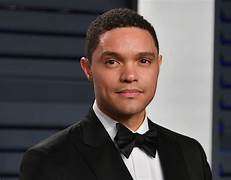 Black women in particular "know what happens if things do not go the way they should," he added, adding that "Black people understand how horrible it is when things go bad, especially in America or anywhere where Black people reside."
Do yourself a favour and listen to Black women if you actually want to know what to do, how to do it, or even the best or most fair approach, he said. "They're a big part of why I'm here," In addition to thanking the studio audience, Noah remembered the early years of his tenure as "Daily Show" host, when the show had trouble drawing viewers.
Looking at the masked audience, he stated, "When I look at this today, I don't take anything for granted, ever." "I always appreciate every seat that has ever been full to see whatever I'm performing because I know the empty seat that sits behind it." With "three distinct ambitions," Noah jokingly said he began his time as host in 2015.

He declared: "I'm going to ensure Hillary Clinton wins the presidency, stop a worldwide epidemic from occurring, and become best friends with Kanye West. During a Sept. 29 showtaping, Noah revealed that he will be leaving the programme after seven years.