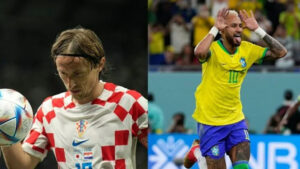 Croatia vs Brazi
l The first quarter-final of FIFA World Cup 2022 is going to be held in Qatar. Tomorrow 9 December 7:30 IST Both teams are set to face off with each other..
Croatia 2018 FIFA World Cup runner-ups held in Russia are now going to face off against Brazil the team who has no fear after the last match's domination Brazil is fully ready to take over Croatia. On the other hand, Croatia somehow manages to come to the quarter-finals after the last match penalties versus team Japan.
The Win probability index bends towards Brazil with 71% but it is FIFA World Cup 2022 which is unpredictable. The most recent encounter between these two sides was four years ago in a friendly as the pair prepared for the World Cup in Russia.
Brazil is the
most
successful World Cup team and also the only nation to have participated in every World Cup tournament.
Croatia's national football team has played
in the FIFA World Cup six times in 1998, 2002, 2006, 2014, 2018 and 2022 since gaining independence in 1991. Before that, from 1930 to 1990, Croatia was part of Yugoslavia. Their best result thus far was reaching the 2018 final, where they lost 4–2 to France in Russia.
Brazil's football team is the most successful in the world won five Fifa World Cup titles and now are waiting for their 6th title also after the comeback of neymar Junior the team got its backbone and now is fully ready to dominate Croatia and the FIFA World Cup 2022.
All Brazil and Croatia fans are super excited about this face off let's see whether the Brazil fans got what they waiting for or the Croatian fans are going to roar in the stadium. Whole world the is ready to see this battle between two legendary teams at the Education City Stadium
in Qatar.