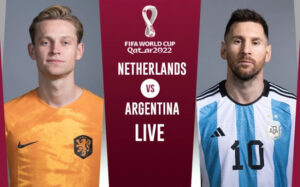 The Netherlands versus Argentina the second quarter-final of FIFA World Cup 2022 catches the attraction of all football fans over the world the venue is Lusail Iconic Stadium in Lusail Qatar is all set for this football battle
Argentina is all set to dominate the Netherlands but can the Netherlands will be able to stop the man the myth who is the captain leader and saviour of Team Argentina the unbeatable Messi? This is still a question for every football fan out there.
This Second quarter-final of FIFA World Cup 2022 is going to be held at Lusail Iconic Stadium in Lusail in Qatar on Sat, 10 Dec Ist 12:30 am most Indian users can watch this battle live and for free through their smartphones in the Jio cinema app.
The Netherlands has played in seven out of eleven FIFA World Cups, including Qatar 2022
They are all set to win this World Cup but for this, they have to stop the one man from Argentina who is Messi some people call him the God of football. Messi is the second-highest goal-scorer for Argentina at the football World Cup. The stats put Leo Messi's scoring rate at football World Cups at just 0.39 goals per match.
But he has never won a World Cup for his team he is now thirty-five years old so Qatar is his fifth, and likely his last, chance to do so. In the past, many Argentines accused Messi of not trying hard enough because he didn't care enough about his country of birth.
This time Messi is gonna break the chain with all his potential for his nation to win this World Cup. After scoring a magnificent goal against Australia in the last match Messi shows that he is in full form and ready to dominate the same in the quarter-final against the Netherlands.
Netherlands after beating the USA with 3-1 score is dominating in this World Cup so can Messi and his team will gonna take over the Netherlands or the Netherlands is going to beat Argentina and break the dream of Messi and every Argentian fan's heart let's see we will catch this action together at 12:30 am 10 December from Lusail Iconic Stadium in Lusail Qatar