In a momentous victory for Indian athletics, Neeraj Chopra won the gold medal in the men's javelin throw competition at the World Athletics Championships in Budapest, Hungary. The first Indian athlete to win a gold medal at this illustrious competition, the "golden boy of Indian athletics," cemented his place in history.
Neeraj's outstanding accomplishment happened in the wee hours of August 28 as he faced up against rivals from around the globe. He demonstrated tremendous skill by throwing brilliantly on his second attempt, measuring 88.17 meters, sealing his victory in the competition.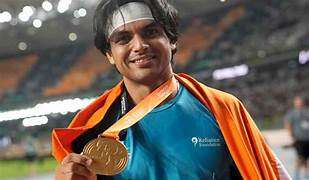 With this exceptional performance, Neeraj not only won the gold medal, but also cemented his position as a pioneer of Indian sports on a global scale.
Neeraj Chopra wins the Diamond League for the second time this year with a best throw of 87.66 meters
With a silver medal in his possession, Pakistan's Arshad Nadeem, another formidable competitor, came in second place. Nadeem managed a commendable throw of 87.82 meters, having previously excelled on the Commonwealth Games stage.
Jakub Vadlejch of the Czech Republic, who displayed his talent with a best throw of 86.67 meters, earned the third position on the podium.
The victory of his son Neeraj clearly made Satish Kumar proud, and he told ANI, "This is a really proud occasion for our country as we received a gold medal in the World Championship as well. Once Neeraj returns to India, we shall have a party.
Best wishes
Congratulatory letters flooded in from all directions as word of Neeraj's historic victory spread. Anurag Thakur, India's Minister of Youth Affairs and Sports, was among the revelers and lauded Neeraj's accomplishment as a turning point in Indian athletic history. He used social media to convey his joy and admiration for the athlete's outstanding accomplishment.
Neeraj Chopra denounces the 'manhandling' of wrestlers who were protesting by the Delhi Police
In congratulating Neeraj on his feat, the Indian Army also added their voice to the chorus of well-wishers. The Indian Army extended its congrats on various social media channels in recognition of his monumental accomplishment.
Neeraj's gold medal boosts India's total of medals at the World Athletics Championships in addition to giving him a sparkling personal victory. His silver medal from the previous competition now serves as his second medal at the Championships.