Martyr's day is celebrated all over India on 23rd March. Apart from this, Martyr's Day is also celebrated on 30 January. But Gandhiji was killed on that day, that is why it is celebrated in the memory of Bapu. 
But on March 23, this day is celebrated in the memory of our three revolutionaries Bhagat Singh, Rajguru, and Sukhdev.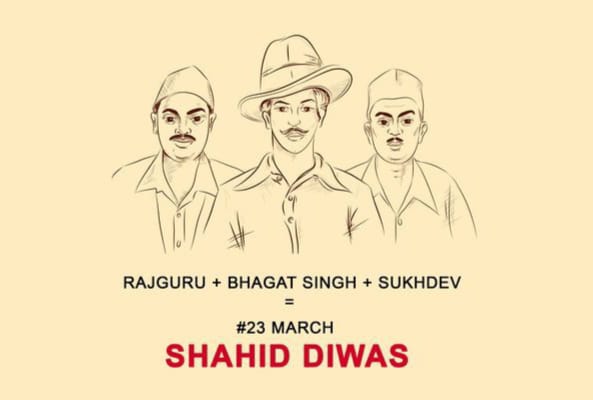 All these three took the path of revolution at a very young age and sacrificed their lives. When all three were hanged, the age of all three was only 22 to 23 years. And they were crucified with their hands.
History of 23 march
It started from 1928 itself.  In 1928, there was a protest against the Shayman Commission under the leadership of Lalaji. In which lathi charge was done on the orders of British officer Sanderson. 
Lala Lajpat Rai, the leader of the hot party was badly injured in that lathi charge.  And then he had died.  Bhagat Singh was 12 years old when the Jallianwala Bagh massacre took place.  In 1920, influenced by Mahatma Gandhi's non-cooperation movement.
he left his studies and joined the movement. When Lala Lajpat Rai died.  So to avenge him, Bhagat Singh, Rajguru and Sukhdev plan to assassinate Superintendent of Police James Scott in Lahore but Sanderson is killed due to mistaken identity.
In April 1929, Bhagat Singh along with Batukeshwar Dutt threw a bomb in the Delhi Central Assembly Hall and Bhagat Singh and Batukeshwar were prosecuted for the Lahore Conspiracy and killing Sederson. 
Slogans of Inquilab Zindabad were raised by Bhagat Singh.  Meanwhile, he along with his partner took revenge for the death of Lala Lajpat Rai.  And all three were sentenced to death.  With this, Bhagat Singh got the recognition of revolutionary all over India. 
The date of hanging was March 24, 1931 in the morning, but due to the feeling of revolutionary among the people and the possible rebellion, the hanging was given only on the night of March 23. 
When all three were being hanged, seeing the sacrifice of this youth, the eyes of the prison staff, Kedi and Jalal also became moist.  All three went to the gallows while singing Mera Rang De Basanti Jhola.  Remembering the unique sacrifice of all three, this day is considered as Martyr's Day.