World Water Day is celebrated on March 22 every year.  Its aim is to understand the importance of water.  Also to continuously promote fresh water resources and motivate people about water related issues. 
Theme of World Water Day is Accelerating the change to solve the water and sanitation crisis.
The day aims to support access to water and sanitation for all by 2030. The day is coordinated by UN-Water under United Nations supervision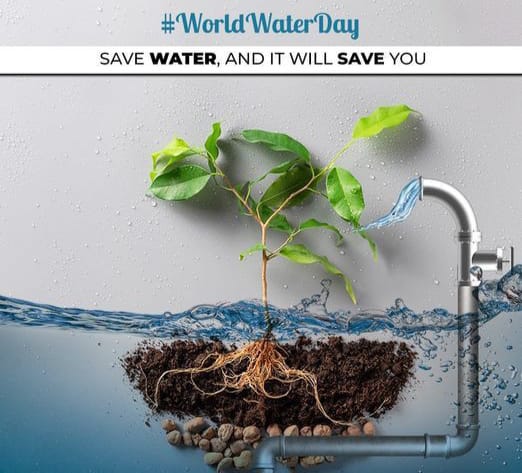 .
UN-Water coordinates the work of the United Nations on water and sanitation.
world water day background The United Nations General Assembly adopted the resolution of World Water Day on 22 December 1992. Under this, March 22 was declared as World Water Day. The first World Water Day was celebrated in the year 1993.
On this occasion, the United Nations World Water Development Report UN WWDR 2023 was released. This is UN Water's flagship report on water and sanitation issues, which focuses on a different theme each year.
Other key facts
Significantly, water covers about 70% of the earth's surface. Of this, the amount of freshwater is only about 3%. Out of which two-thirds is accumulated or inaccessible and available for use.
According to the United Nations World Water Development Report, groundwater holds about 99% of all liquid freshwater on Earth as of 2022. Nearly two billion people are struggling with the lack of safe water. Apart from this, about 74 million people are facing diseases related to bad water, sanitation. 1.6 billion population of the world is not getting clean water.
The UN has appealed to governments and populations around the world to change their habits. Because this is how people waste water carelessly. The reason for the water problem is global warming and with the growing population, careful use of water.
In 2002, a mission was run by Nasa to measure the water status and distribution of water on the earth. The one who came to know that where there is water, it is raining more and there are floods. And where there is water, it is getting dry. Another reason for this whole problem is urbanization, due to which too much water is being wasted.
Which is an air conditioner, washing machine and fridge which wastes more water. And the electricity bill also comes down, which uses more water to generate more electricity.17.5 percent of the world's population lives in India, of which only 4 percent has clean water. And its direct effect also goes on poverty because rich people can buy water and poor people are forced to drink dirty water and become victims of disease.
Similarly, we will have to start saving water and the people around us will also have to understand its importance, save water and stay healthy.