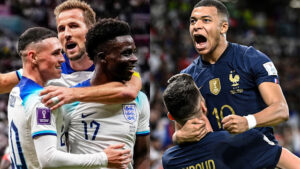 England versus France is the fourth and last quarter-final match of the FIFA World Cup 2022 and probably gonna be the toughest match of this World Cup cause team France is the winner of the last FIFA World Cup 2018 Russia is now going to take over England who are looking for there 2nd World Cup win since 1966.
Also team England squad is probably the best and strongest playing eleven of the FIFA World Cup with players like Harry Kane and Marcus Rashford who are the best players of the primer league after their performance in previous games of the world cup, looking in the form to take over the world champion's France.
The French team won its first World Cup title in 1998. The tournament was played on home soil and France defeated Brazil 3–0 in the final match. In 2018, France won the World Cup for the second time, defeating Croatia 4–2 in the final in Russia's FIFA World Cup 2018.
The history between the two teams says that England's record against France is impressive with 17 wins, 9 defeats and only five draws. But the probability index is indicating that France with 41% of winning this battle on the other hand the underdogs England has a 32.4% winning chance. But as we know this is FIFA World Cup 2022 and nothing is predictable here no one is the underdog here so can England send France home after defeating them or France is gonna take over England and keep heading towards another World Cup win after the last FIFA World Cup.
The performances of both teams are good in the last match both dominated against their opponents England defeated Senegal with a 3-0 dominating win whereas France in their last match beat Poland with a 3-1 score at the end of the match.
The result of this match is unpredictable. As result, we have watched this match live tomorrow at 12:30 pm on 12 December.