Liverpool fc defeated Aston Villa with 3-1 score on their home ground. Yesterday in Premier league games between Aston Villa fc and Liverpool fc took place on the Villa Park stadium situated Birmingham, England.
In this match Liverpool completely dominated team Aston Villa and celebrated another back to back victory in their premier league game.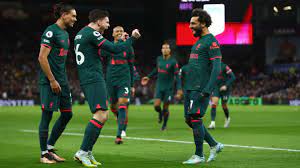 The overall story of the game was like the first goal of match was scored on the very beginning of the first half on 5th minute M. Salah from team Liverpool fc scored a goal and gives a opening for team Liverpool fc.
The performance of team Liverpool was dominating from the start of the game as they score goal in 5th minute of the match after that again V. van Dijk the defender of Liverpool scored the second strike for his team and thus they secures lead of 2 goal till the end of first half of the game.
The second was quite interesting for team Aston Villa where they scored their opening goal on the 59th minute. O. Watkins was the man from team Aston Villa who brings hope in the fans that this game is not over yet.
But Liverpool was fully ready for this and thus after the score the successfuly defended their lead even in the last minute's of the game youngster from Liverpool fc who recently came in game through substitution process scored his goal S. Bajčetić was the name of this upcoming great player.
After this 3rd goal by Liverpool fc there was no chance for team Aston Villa for comeback thus on the full time whistle stop Liverpool fc won the game.
The stats of the match was shots taken by Liverpool fc is 16 and Aston Villa is 12 whereas the ball possession was 52% on the Liverpool side and 48% on Aston Villa.
The pass accuracy was Almost same in these two teams Liverpool fc with 81% and Aston Villa with 80% of passes.