Nirmala Sitharaman will soon get discharged from AIIMS Delhi. The union finance minister of India Nirmala Sitharaman was on Monday at noon admitted to AIIMS Delhi Previously it was said that the reason for her being admitted to the hospital was a routine check-up. But after some time it was discovered that she was admitted due to food poisoning and a little stomach infection. also according to sources close to PTI Nirmala Sitharaman was suffering from symptoms of viral fever.
According to doctors, there was no need to word about her health she was completely fine and soon will get discharged from the hospital she will be soon back at her duty to serve our nation.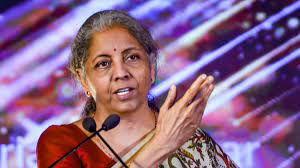 Who is Nirmala Sitharaman?
According to Wikipedia Nirmala Sitharaman was born on 18 August 1959 and is an Indian economist and politician serving as the Minister of Finance and Corporate Affairs of India since 2019. She is a member of the Rajya Sabha, the upper house of the Indian Parliament, since 2014. Sitharaman previously served as the Defence Minister of India, thereby becoming India's second female defence minister and the second female finance minister after Indira Gandhi, and the first full-time female minister to hold each of those portfolios. She has served as the Minister of State for Finance and Corporate Affairs under the Ministry of Finance and the Minister for Commerce and Industry with independent charge. Before that, she served as a national spokesperson for the Bharatiya Janata Party.
What AIIMS? Wikipedia
AIIMS is a public medical research university established in 1965. All India Institute of Medical Sciences, New Delhi, also known as AIIMS Delhi, is a public medical research university and hospital in New Delhi, India. The institute is governed by the AIIMS Act, of 1956 and operates autonomously under the Ministry of Health and Family Welfare.
AIIMS, New Delhi's main campus is located in Ansari Nagar in Delhi. It is adjacent to the South Extension-II market and lies on both sides of the Sir Aurobindo Marg, southwards to the AIIMS Roundabout flyover crossing.